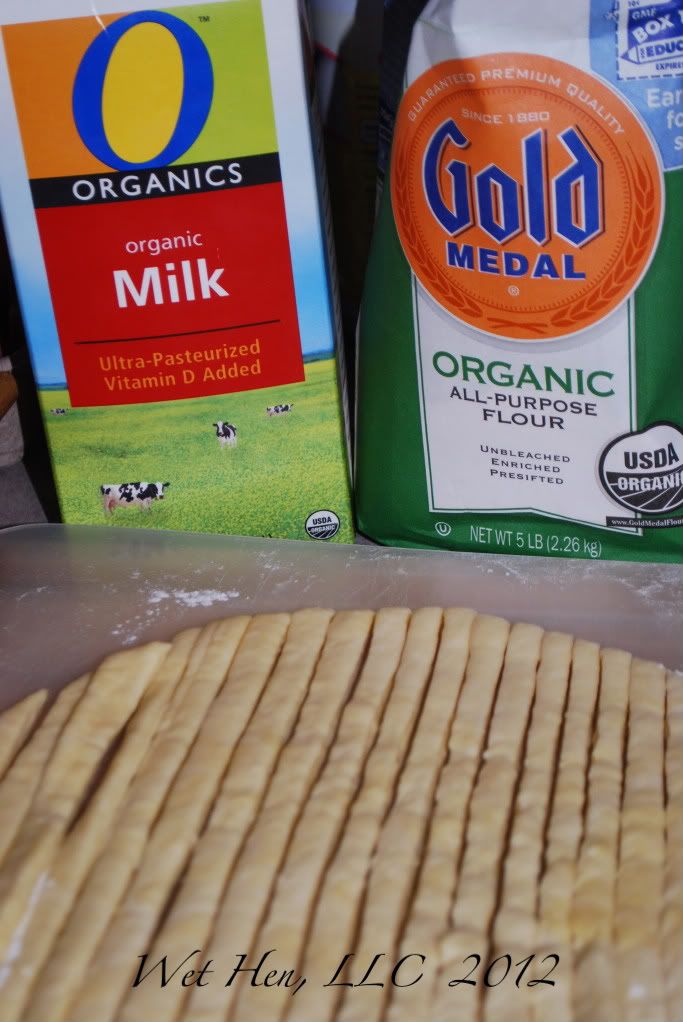 Rolled our egg noodle dough
Did you know the worlds oldest known noodles were found along the Yellow River in China back in 2002? They were approximately 4,000 years old at the time of discovery! Incredible shelf life, if you ask me!
According to the research completed on these ancient noodles, they were made from foxtail millet and broomcorn millet. They didn't say what else was in the mix. Would be interested to find out tho'.

One of my very favorite noodle is the egg noodle. They are a very easy and versatile dish. Not to mention, most everyone has all of the ingredients in their pantry or refrigerator!
The longest step of this recipe is in the waiting for them to dry... you need to plan at least an hour for this process.
You can use these noodles in chicken noodle soup, in stroganoff, turkey tetrazzini, in casseroles, kugel, salisbury steak, and more! Your imagination or even Google can come in handy in creating some culinary main or side dishes of these tasty morsels.
Air drying egg noodles
EGG-cellent EGG NOODLES
2 1/2 cups all-purpose flour
1 pinch salt
2 eggs, beaten
1/2 cup milk
1 tablespoon butter
In a large bowl, stir together the flour and salt. Add the beaten egg, milk, and butter. Knead dough until smooth, about 5 minutes. Let rest in a covered bowl for 10-15 minutes.
On a floured surface, roll out to 1/8 or 1/4 inch thickness. Cut into desired lengths and shapes. They don't have to be perfect!
Allow to air dry one hour before cooking. You can use a cookie sheet to do accomplish this. If you need the countertop space and you're not using the oven, put them inside to oven (no heat) until you need them.

Homemade chicken egg noodle soup

To cook fresh pasta, boil salted water or broth in a large stock pot, add noodles and cook until al dente.
If you want, you can easily double or even triple this recipe. Dry as directed and then place cookie sheet in freezer as is to keep the noodles from sticking to one another. After they are frozen, transfer them to a dated & labeled freezer bag to use on another night! No thawing necessary.